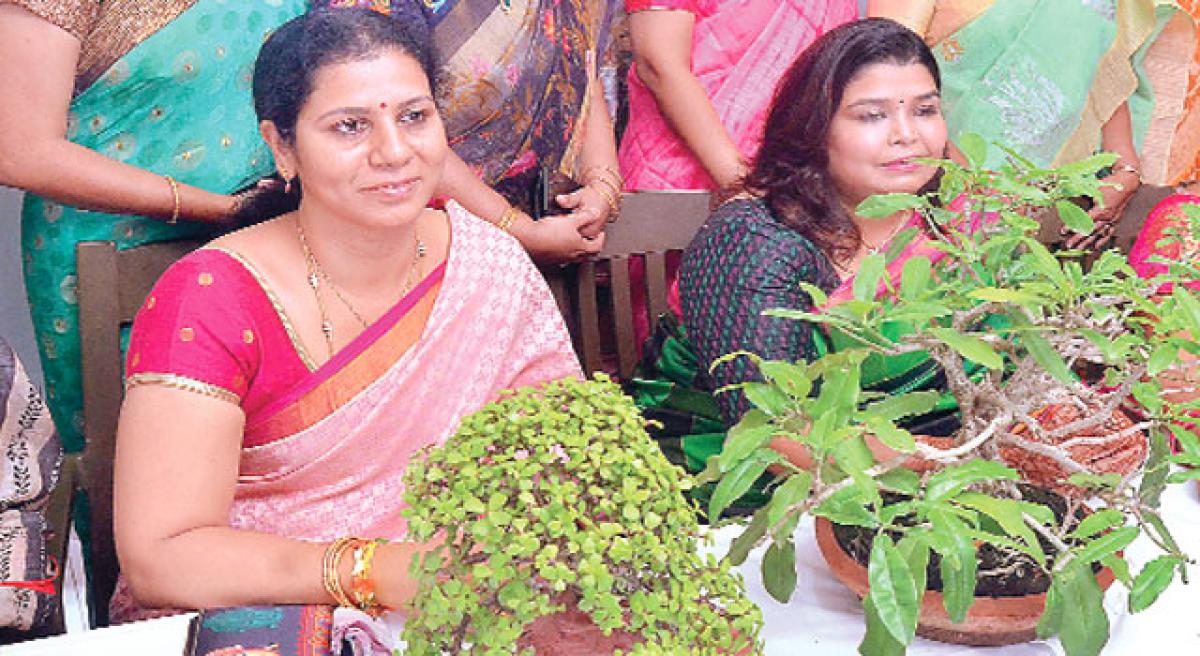 Bonsai gardening is making inroads
People, in recent times, are drawn to bonsai breeding due to the lack of gardening space with increasing urbanization. Plant lovers in Vijayawada are also turning to bonsai horticulture these days.
With greater awareness of gardening and horticulture and with the development of international standards, gardening enthusiasts are growing plants in all possible places available in homes.
Vertical gardens and rooftop gardens are some of the options chosen to give homes more elegance these days. In the recent past, people have shifted from vertical and rooftop gardening to planting bonsai, which brings grace and beauty to homes.
Bonsai plants are attractive and create a healthy atmosphere in the house. Naturally, locals make room for bonsai plants in their homes.
Amaravati Bonsai Society (ABS) President Amrita Kumar, speaking to Womenia, said ABS is the first of its kind in Andhra Pradesh. She said, "Bonsai gardening is a Japanese technique that is spreading all over the country and requires a lot of patience and skill.
The company was formed to educate people and train them to prepare bonsai with very minimal soil, which would fit in a small pot. Due to the lack of space, people can have a miniature of a large tree inside the house, which was smaller than a bush.
She said her interest in forming a bonsai society in Vijayawada grew after attending a bonsai exhibit at a horticulture exhibition in Hyderabad. Visitors to the exhibition expressed interest in knowing how to grow bonsai and adopting it as a livelihood option, which prompted her to start a company in Vijayawada when she moved.
She formed the society with 25 members. She said that Vijayawada is a happening place these days and that they would regularly hold awareness programs and classes on bonsai gardening to educate farmers on using the bonsai nursery as a livelihood program.
Amaravati Bonsai Society led by its President Amrita Kumar, Vice President Yerneni Padmaja, Secretary Pathi Naga Lakshmi, Deputy Secretary – Gamini Suneetha, Treasurer Durga Sowjanya Kancherla and one of the members, Dr Neelima, are actively involved in bonsai gardening activities.
She said the cost of the plant ranges from 1,500 rupees to over a lakh depending on the rare variety, size and age of the bonsai. These bonsai plants are placed in shopping complexes, malls, offices and homes nowadays.
There are a variety of bonsai plants and the ones that are readily available include Phycus, Boganvilias, Temple Trees, Edenium, Tamarind and all kinds of fruit plants, wild forest plants, flowering plants, Peepal, Banyan, Umbar, Christmas Tree, Silver Oak, Rose, Bakul and many more.