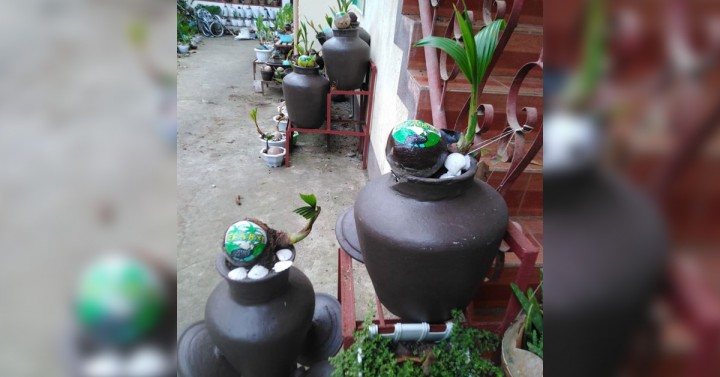 Iloilo scientist cultivates thousands of coconut bonsai trees
CITY OF ILOILO – The health pandemic has stimulated the creativity of a scientist from Bingawan, Iloilo, who has produced more than 2,000 coconut bonsai trees.
"We are looking at the positive side of the pandemic. Now is an opportunity for us to use the resources around us," said Concepcion "Connie" Carillo, also a farmer and owner of Concepcion Carillo Agricultural Farm (CFARM) in Bingawan's Barangay Cairohan.
She is also Vice President of the Magsasaka Siyentista Association in the Western Visayas.
Coconut bonsai is considered an ornamental plant. However, it takes a long time before you can appreciate its beauty.
"Coconut bonsai teaches us to be patient, to invest our time and not to rush things and despite this pandemic, we have to survive life," she said in a phone interview.
Being recognized as "Magsasakang Siyentista of Bingawan in 2017" and as one of the "Outstanding Rural Women Farmers of 2018" by the Ministry of Agriculture prompted her to come up with a project for women, she said.
In 2018 she decided to try coconut bonsai but only produced four as she was too busy with other work.
A year later, she realizes the unique characteristic of the coconut to "survive" despite the cutting of its leaves and roots. That year, she was able to make 14 coconut bonsai.
The 2020 pandemic allowed him to stay in Bingawan, explore and search for agricultural waste that could help earn money.
With more time already spent at home, she was able to produce over 2,000 coconut bonsai trees.
She added that coconut bonsai can be used as keepsakes, gifts on special occasions, desktop decorations and stress relievers.
Planting material or seed is priced at PHP 500, but two-year-olds can be sold for between PHP 2,500 and PHP 4,000 each.
"It brings good luck because each bonsai is unique. I am very positive about this project even though I know it will take time," she said.
It takes a month before the sprout of the coconut fruit comes out. Another five months for it to grow to about 12 inches long.
After eight months, when the roots and leaves are longer, the bonsai is now ready to be transferred to a larger container.
She said she was aware that this project takes time, but she wanted it to become popular and for Western Visayas to claim that they are the first to produce coconut bonsai.
Carillo expressed optimism about its popularity in the future, like the caladium plant, which previously only thrived in forests but has now become popular among plant growers amid the pandemic.
Her coconut bonsai project has also provided income for her community as she has bought coconut fruits from them, including those that are considered discards.
Other parts of the coconut fruit are processed into coco peat and coco chips for fertilizer.
"We are zero waste when it comes to coconut and coconut bonsai is our main product," she said.
Farmers are always encouraged to look around and find out if there are things they can convert into cash, Carillo added.
She is willing to train those interested in raising their own coconut bonsai.
"We have to force ourselves to appreciate what surrounds us. Otherwise, if we couldn't see the positive side of this pandemic, we would just be depressed," she said.
She added that raising coconut bonsai takes time and patience to produce a beautiful ornamental plant.
Apart from bonsai production, she has also discovered a way to eradicate the coconut palm beetle or Brontispa longissima which infests coconut palms.
As she is always looking for coconuts to use for bonsai, she noticed that some of the coconut trees were dying and discovered that it was due to the brontispa.
She found that rice husk ash mixed with fine sand and vegetable oil, which she also produced, can kill the insect.
"It was a great achievement for me as Magsasaka Siyentista," she said.
On March 4, she discovered that a concoction of garlic, pepper and ginger boiled in vinegar can kill ants and other pests just two minutes after spraying.
A mixture of 880ml of the concoction with 60ml of herbal oil, produced on his farm, plus 60ml of washing up liquid makes a powerful pest annihilator.
Carillo added that as a farmer/scientist, she will continue to do experimental research and innovations to share with her fellow farmers.
(NAP)