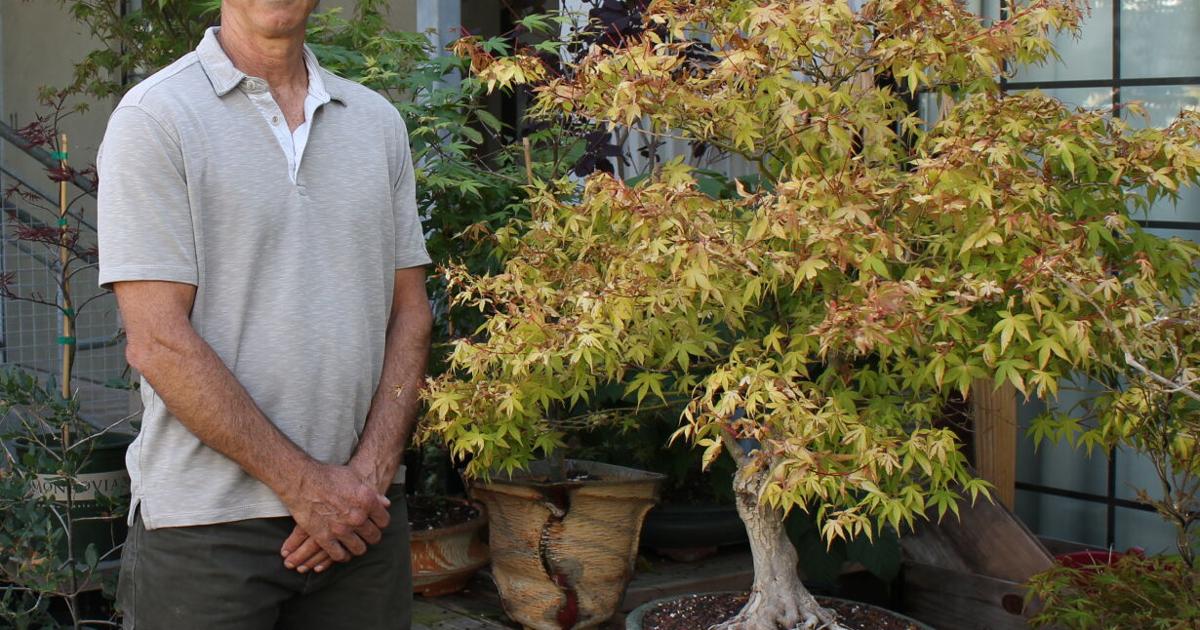 Joe Sacks: The Art of Bonsai Carving | New
Joe Sacks was a Bonsai tree sculptor for two decades before discovering what is now his artistic niche: handcrafting unique pots, customized to fit each of his unique bonsai trees.
Tired of the lack of character of commercial pottery that only produced the same narrow range of shapes and glaze tones, Sacks decided to opt for a more contemporary style. He feels that his pots work with every bonsai, in that the tree and the pot complement each other. He believes bonsai trees should thrive rather than just survive.
"There are a lot of people who are Bonsai artists and few people who make pottery for Bonsai, but it's much rarer for an artist to do both," Sacks said. "I love the idea of ​​being involved in both parts of the creative process, styling and working with the tree and creating a pot that works for it. I appreciate a tree for what it is, but I like to show it off with the addition of a pot of its own.
Bonsai trees have an inherently attractive quality that makes them appealing to everyone, not just seasoned practitioners. "I love the idea that each tree is so unique," Sacks said. "No tree is perfect, but with time, patience, and proper Bonsai principles, you can improve the tree and create a look that can't help but be drawn to."
Sacks has been sculpting bonsai for 28 years and is a longtime admirer of Asian art forms. In Asian cultures, bonsai dates back over a thousand years and has evolved over time. Each culture looks at it differently. Sacks' personal style drifts more towards the Japanese Bonsai style, as it is a bit more reserved. While studying bonsai, he took a liking to the philosophy of some bonsai practitioners who believe that they are simply the current custodian of the tree.
"Most bonsai trees, if cared for, will outlive us," Sacks said. "Someone else will continue to care for them, styling the tree with their vision of what that tree might look like. With age comes tree improvement. You have to look at a tree and imagine what the tree might be in ten or twenty years, what it might become. When you work with a tree, you literally watch it evolve and grow over time.
When Sacks sells a bonsai tree to a customer, this development continues. "If someone owns a few bonsai trees, applies bonsai techniques, and follows them as they progress, that technically makes them a bonsai artist," Sacks said. "I'm just another bonsai artist, but with more than a few trees."
Sacks' interdisciplinary approach to his craft allows him to continue to develop his art while continuing to train, examining different types of art and integrating them into his current work.
"I had started taking a ceramics class and after throwing around a few pots I thought, 'How about trying to make a pot for one of my trees?'" Sacks recalls. "My first attempt was correct, so I continued to make them. I started making pots and adapting them to the trees that were planted in them. I started studying calligraphy a few years ago, this who has moved on to sculpting some of my pottery pieces and using the brush in some of my glaze applications.I love how the disciplines can intersect.
Sacks' interdisciplinary approach has inspired him to create works of art that combine organic materials with and without bonsai. Together these pieces are known as The Driftwood Collection. When the Thomas Fire occurred, Sacks found several burnt logs that were part of the debris flow and had washed up on Carpinteria State Beach. He then modified the logs and planted bonsai trees there. He also immersed himself in pottery, throwing pots and adapting them to fit specific pieces of driftwood. Each piece of driftwood pot is unique in itself.
To learn more or to purchase a piece, visit thetreesculptor.com.
Brenda Tan is a freelance columnist and editor. She is currently pursuing a BA in English, Writing and Literature, and Art History with a major in Museum Studies at UCSB. She can be contacted at [email protected]