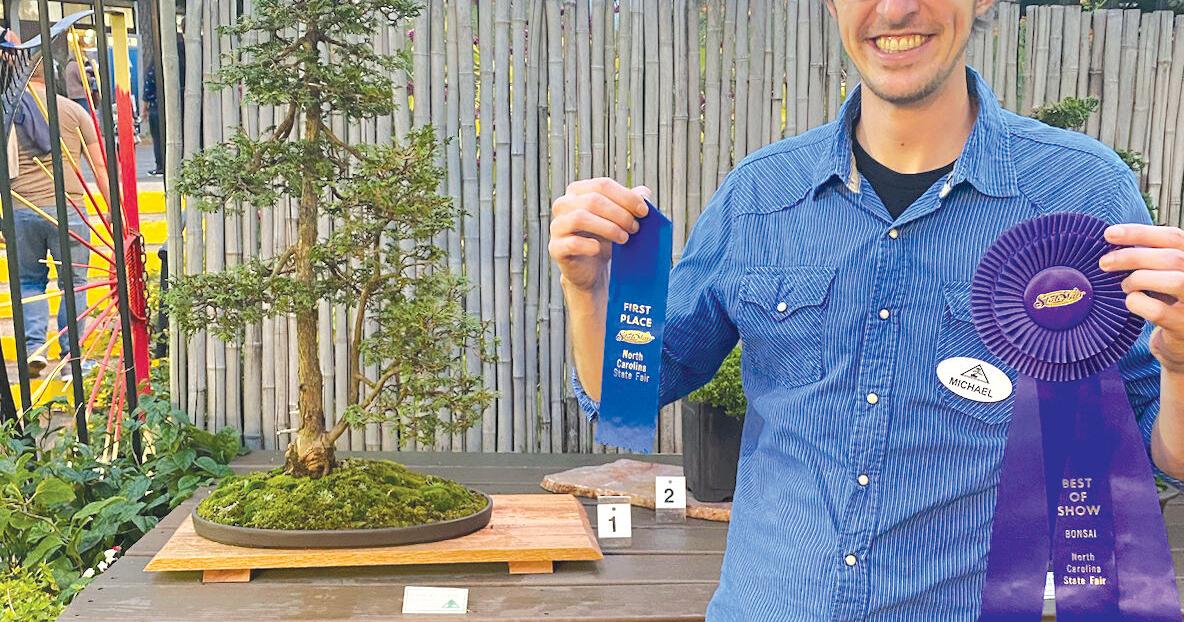 Local Bonsai Artist Wins State Fair's Biggest Prizes | New
Warrenton resident Michael Ring continues to grow as a bonsai artist, winning Best Show and first place at the North Carolina State Fair this year.
He has worked in the Japanese art of Bonsai – growing and training miniature trees in containers – for six years.
Ring, known in the community for his work as a chef, enjoys hiking and being in nature. However, his work schedule prevented him from devoting as much time as he wanted to outdoor activities.
"(Bonsai) is a way of bringing nature to me," Ring said.
He studied this art form by reading all the books he could and searching the internet for information. He also joined the Triangle Bonsai Society, which allowed him to learn from artists around the world.
Ring started with a bunch of junipers that he bought from local stores. Only one of them remains alive today, but, he noted, "it has become fantastic".
Some people may think that bonsai is simply trimming miniature trees into interesting shapes. However, for Ring, the process takes time, but is worth it.
He usually goes into the woods and collects trees – many of which are around 20 feet tall – cuts them down and removes most of the roots. The Bonsai process really begins as they regrow.
"It takes a trained eye," Ring said. "Mother Nature does the work."
It applies the basics of Bonsai developed in Japan and horticulture associated with native species. Ring often works with Winged Elm, Hornbeam and Beech, as well as species that people grow in their landscapes but want to remove, such as Forsythia and Spindle.
He loves working with deciduous trees, noticing how the leaves grow and change with the seasons, from the fresh, bright green new leaves of spring to the bright colors of fall. For the bonsai artist, showing a tree in winter when no leaves can hide the flaws in its design is very challenging and rewarding.
"In bonsai, deciduous trees are considered the most difficult," Ring said. "It's best to show them in the winter when there are no leaves. It is best to show the work of the artist. If there are flaws, you can't hide them.
He was elected vice president of the Triangle Bonsai Society in 2021, with responsibilities that include programming artists for the programs. Ring's work brought him into contact with his "bonsai hero," Dan Robinson, artist and bonsai master from Washington State. Ring described Robinson's approach as taking inspiration from what is ancient and recreating it in miniature.
Ring has led several workshops and currently teaches a series he developed through the Triangle Bonsai Society focusing on understanding the seasonality of bonsai.
"There have been a lot of new members (of the Triangle Bonsai Society) since the pandemic," he said. "They learn from all the mistakes I've made over the years. You must understand bonsai horticulture before acquiring the art.
Ring has participated in a few bonsai shows, but this year was his first time at the North Carolina State Fair. He showed off a Hinoki Cypress originally purchased from Wildwood Nursery in the winter of 2018.
"This tree is really special to me," Ring said. "It's the first tree that I've really wired every branch to. It shows how much I've grown as an artist.
It falls into the Novice Evergreen category for bonsai trees with less than 10 years of experience. Judging considered tree health, artistic sensibility, technical aspects of bonsai and artistic expression. Ring received a score of 95 out of a possible 100, earning first place honors. Its Best of Show award encompassed all Bonsai entries in five categories.
His artistry drew praise from Ed Lauer of the Triangle Bonsai Society, who told Ring that in 10 years people will know when he's worked on a tree. Ring added that Lauer told him he had a distinct style that stood out in a crowd.
"That was the biggest compliment," Ring said.
He now maintains over 100 trees.
"For me, bonsai is almost like a martial art, a daily practice," Ring said.
He called this art a discipline, describing the ongoing process of protecting his trees from extreme weather conditions, knowing which branches to cut to make the tree healthier, and learning how to heal wounds. Ring also described bonsai as a combination of art and science, much like cooking.
He dreams of having one of his trees on display at the National Arboretum in Washington, DC, like the bonsai he admires. While many of today's bonsai artists got their start in their 60s, Ring began working in bonsai when he was 30 years old. He intends to spend many more years perfecting his style of bonsai.
"There's an endless amount of learning and experimenting," Ring said. "It's a bit like cooking. You never learn everything, but it's a journey and a daily practice.