Over 100 miles covered! – Hiking
When I look at the stats of how far we've come versus how far we have left, I feel like no progress has been made. But we love the journey and are thrilled to take those steps – 100 miles less!
Day 9
5.6 kilometer(s) from Plumorchard Gap Shelter
We hung around the hostel for most of the morning, organizing gear and hanging out with other hikers. I met 2 hikers that I will be seeing continuously over the next few days: Radar, a grizzly bearded man who has hiked the entire trail before, and Lat, a cheerful young man who is carrying a very heavy pack and carrying adapts to his first long-distance hike.
By the time we got to the trail it was around noon. Lisa, one of the hostel owners, was kind enough to take us back 800 yards to the trailhead. Although it wouldn't have been a far walk, it was along a half-traveled road so we were grateful for the drive.
We kept the day easy and hiked 3.5 miles to the next shelter.
Shelters are one of two ways to camp along the AT. Shelter areas include shelter (duh), as well as areas to set up tents and hammocks. There is usually a reliable source of water nearby, a toilet (pit toilet) and sometimes cables or boxes to store your food. You will find shelter every 8 miles or so along the trail.
The other option for camping is to stay at established campsites along the trail. These sites are scattered all over and may or may not be listed on the trail map. They may (or may not) have a water source nearby. There are no other amenities.
Last week we mostly stayed at these scattered campsites as the shelters weren't always at the right time. But in general, I prefer to stay in refuge areas. Although I don't mind sleeping in the shelters (too many mice), I like having a table to cook on and a place to sit/lay/stretch that isn't the dirt. There's also the camaraderie of hikers that happens in the shelters, and of course the escape it offers from the rain.
Day 10
Permanent Indian refuge at 20.2 km
Today was an important day, as we crossed our first state line. We are now in North Carolina!
There is a small GA-NC engraved wooden sign that marks the border. This is where I would share a photo of us with this sign, except I walked right past the sign without realizing it, so no photo.
Much of the morning was spent climbing and walking along the ridges at higher elevations. The wind was blowing wildly and there was thick fog which made for a cool (and spooky) landscape:
Radar and Lat went to the same shelter that night, along with a few section hikers I had seen on and off over the past few days.
Something I've come across a lot lately is the generosity of hikers in the section. On 3 occasions I have been with section hikers who are nearing the end of their trip and looking to unload their unused fuel and food. As my resupply boxes put me on food, I'm always on the hunt for more fuel and extra snacks. And, they tend to be those silver snacks – kind section hikers can afford, but thru hikers can't.
Day 11
16.3 miles to Long Branch Shelter
This section of the trail has seen a lot of bear activity lately so we decided to cross over and camp on the other side.
Although we didn't see any bears, we did see plenty of droppings, as well as these wanted-style warning leaflets posted around: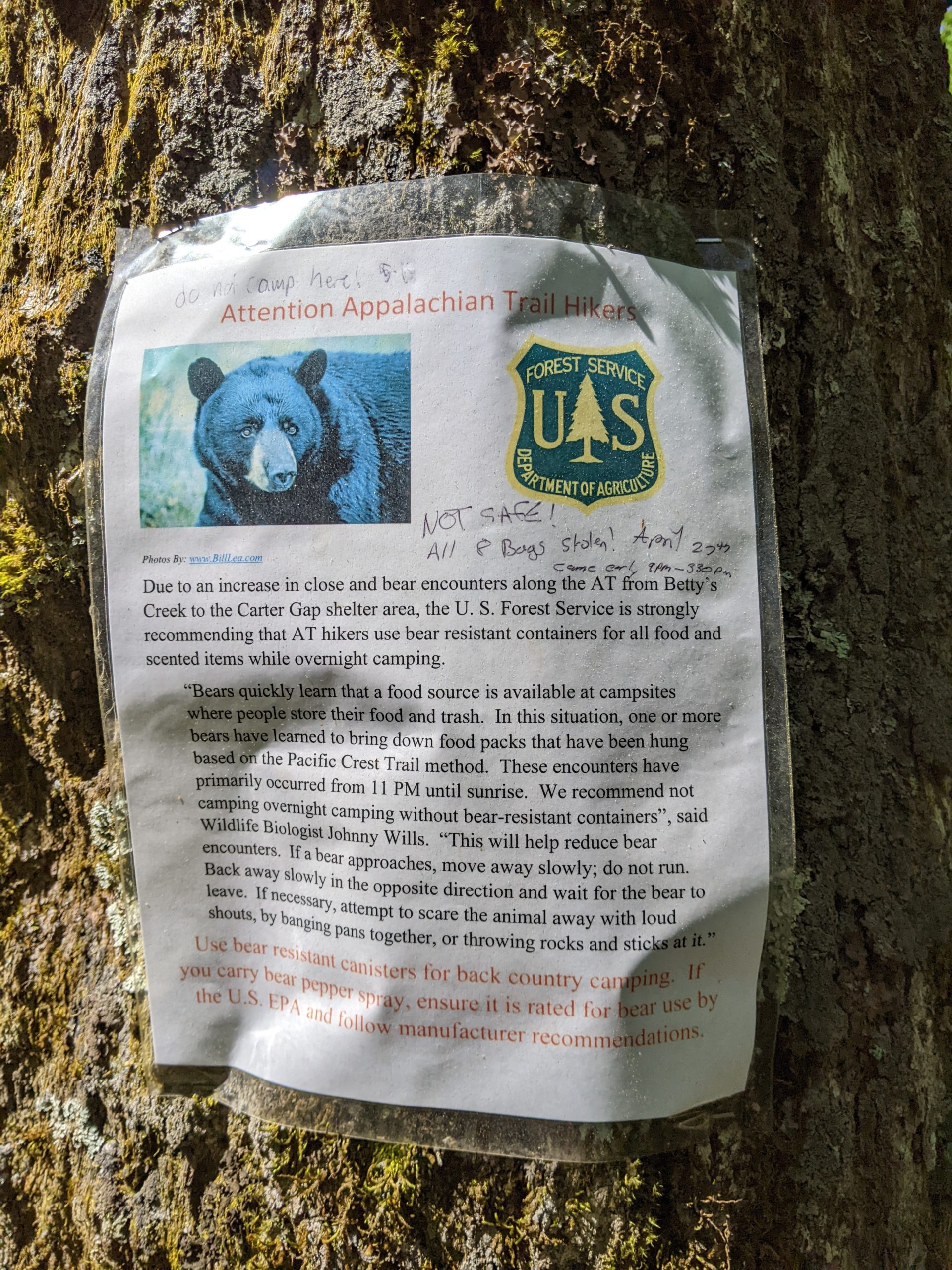 Our higher mileage day also allowed us to take another step forward. We passed the 100 mile mark! (and I have a photo this time):
Shortly before the milestone, we climbed Albert Mountain, a straight vertical rock scramble, with an old fire tower at the top.
If you wish, you can climb to the top of the 40ft tower and get a better view of the valley below. But after the mountain climb we just did to get there, I wasn't interested in the stairs. We stuck to a basic selfie instead (Bonsai wasn't in it):
From there the rest of the hike was downhill (both figuratively and literally). The shelter was only a few kilometers away, but as the altitude decreased, my knee ached more and more. It has mostly been a minor pain, but long miles of descent make it a killer.
Day 12
Convenient to Gooder's Grove Hostel
My general goal is to stop at a hostel about once a week to clean up, rest, and recuperate. The timing isn't always perfect though, and because Franklin, NC was a town I wanted to stop in, we left the trail a bit shy of that ideal once a week.
The town itself is about 10 miles up the trail, so Zen the hostel owner picked us up. We reached the gap with plenty of time to rest before he got here.
Once at the hostel, town is just a short walk away. I went to the thrift store (new book), Dollar General (ibuprofen), then ended up at the Lazy Hiker with a few hikers for dinner and drinks (and darts). Meet Don Quixote and Sancho, two of the coolest guys on trail:
Day 13
Zero
A zero day on the track is when you don't cover any kilometres. Today was my first day zero.
Initially, thinking that I would only spend one night at the hostel, I reconsidered and decided that it was better to rest longer and treat my knee. So I took a day off. And got a massage.
A massage was something I had considered on the trail, as I think the pain in my knee is due to tension in my hip and computer band, and a massage is an effective way to relieve that. But massages are expensive and my budget is limited.
However, when I came off the trail at Winding Stair Gap, a business card for a massage therapist was waiting for me. I took it as fate and made an appointment.
The massage was called the "Hiker's Relief Package" and focused on loosening up all those tight, overused hiker muscles. I left feeling brand new.
Every week I get a resupply box sent to the hostel I'm staying at. It's mostly food and supplies for the week ahead, but my family has also added some surprise treats. Opening the box and seeing what my nephews sent me has become something I look forward to every time.
Carson sent a sweet (ominous) card:
And Mason sent a drug necklace. He designed it to be lightweight, made of wire and paper. Can't wait to wear it on the trail! (Pictures to come!)