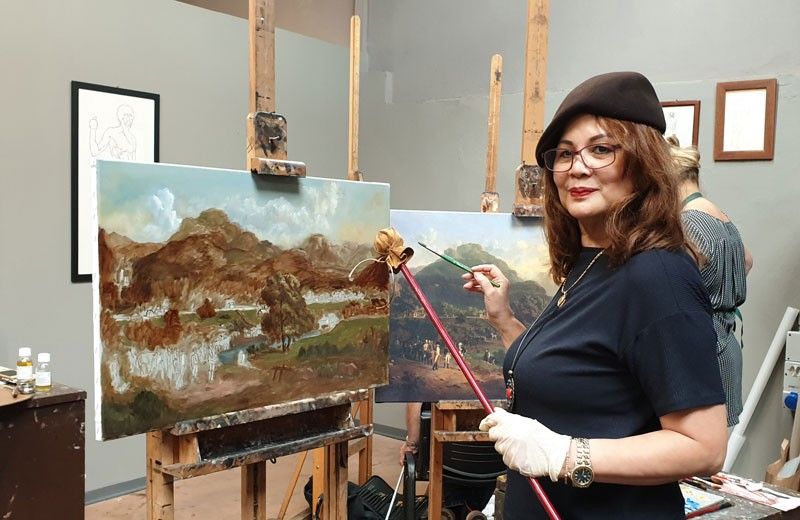 Rellie Liwag and her grateful art
Vivid are its colors, candid are its features. And all over the canvas is visual artist Rellie Liwag's salutation to God.
Rellie's paintings are an alliance between her and her Creator. Of course, she satisfies her artistic inclination, follows the depths of her heart when she paints, and indulges her soul's temper when her brush makes love to the canvas. But beyond that, his work is a silent prayer, a singing desire, a colorful celebration.
In his ongoing joint exhibition "Painter's Eye" at One Serendra at BGC with Ed Lantin, Dante Silverio and Junn Roca (in absentia because he resides in the US), Rellie displays the verve of his heart and soul . Her soul is as open as the sky because Rellie, along with her co-artists, offered free art workshops in the fundamentals of drawing for six consecutive Sundays at the venue. The workshops ended last Sunday and the students will have a graduation and exhibition tomorrow. ("Painter's Eye" will last until June 5.)
Rellie knows how to live her life and it shows in her paintings. Nature is an inspiration because "nature is God". In his impressionist style lies his love for landscape and portraiture.
For example, his "Japanese Landscape" (oil on canvas, 15″ x 11 ½") is illuminated by the monochromatic color of summer slowly saying goodbye to make way for fall. Two seasons are captured in a single image. Auburn leaves overshadow the green growth. Between the seasons are the artist's joyful and moving experiences in Japan. All are memories that have come to life on his canvas.
Rellie has a penchant for Zen and the serenity of Japan. This is evident in his "Boat Ride in Japan" (oil on canvas, 23″ x 17 ½"). Luminous are the aquamarine waters of the painting, refreshing for the eyes, creating rebirth for the weary soul. Life and the living spread out on the canvas. Hopes and dreams are romanticized. Peace and quiet are like a reward for anyone watching the work. Yes, his works offer peace. The peace that is sometimes denied to many overthinkers is offered to him by Rellie's genius crawling and sprawling on his web.
The female artist has the ability to excite the senses of the viewers of her works. For example, his mind's eye took a tiny portion of the 100-hectare New York Botanical Garden and transported his memory into his work titled "The New York Botanical Garden 1″ (oil on canvas, 30″ x 20" ) and created a huge desire for someone to visit the botanical garden. The paint is a burst of orange tempered only by the hues of green and brown. The party is the order of the day.
There is a familiarity of emotion in the artist's works. Indeed, the joy felt by a child frolicking on the white sands of Boracay is found in "Karyll in Boracay" (acrylic on canvas, 16″ x 20″). This one, despite the face of the unrepresented child, is filled with gaiety perhaps because the lines are alive in the foam of the waves. There is movement. There is inertia. There is strength. All combined – there is pleasure in youthful happiness.
Rellie's paintings are a repository of happy meanderings and memories. His familiarity with a particular place comes to life in his works. For example, his oval-shaped paintings "Serendra's Aviary" and "Serendra Bonsai" (oil on canvas and 20″ x 16″) straddle joy and happiness. It is the same excitement and the same happiness that is found in his soul.
In "Young Rembrandt" (oil on canvas, 25″ x 21″), she reveals herself to be a fervent fan. "I'm a die-hard fan of the famous artist Rembrandt and executing a replica of his masterpiece was no easy task," she says.
She painted a replica of 'Young Rembrandt' in oil on linen while taking an intensive course at the Florence Academy of Arts in Italy in 2019. "My Russian mentor Igor Nagaslov was strict, very thorough, a detailed and realistic painter. He chided me that I was too eager to finish my work and that I should slow down, especially (while) doing the complex parts. Plus, he showed me how the old masters painted and the materials they used, some still available at a specialty art store in Florence, which I ended up buying to use.
The end product is a masterpiece. All of her 10 paintings in the exhibition have been sold except for "Young Rembrandt" – because she is not selling it. She developed an attachment to this work, a memory of how she remains an art student despite already being an established artist. (She also credits world-renowned art stalwarts Daniel Greene and Nelson Shanks as her mentors.)
Rellie, who earned a degree in communication arts at Maryknoll College (now Miriam College), was, for a time, a model for Pitoy Moreno and Auggie Cordero. She worked as a visual aids specialist for McKinsey and Co. Inc. in Los Angeles, California for five years. Later, she joined ITT Sheraton, also in Los Angeles, as an administrative assistant in the human resources office. The artist in her stubbornly resurfaced so she studied oil painting in West LA before moving to the Philippines with her family after 18 years living in the United States. With brush in hand and a canvas in front of her, she found her new self, her new joy, her new aspiration. Upon her return to Manila, she joined Galerie Joaquin and was invited to join the Guevarra Group of Artists. Since then, she has participated in numerous group exhibitions and has mounted solo exhibitions in Manila and Manhattan.
"I'm always grateful to God for the talent he gave me," she says. This gratitude is reflected in her art, where the joy of her rediscovery of self is represented in every line and stroke, in every color, in every beat of her heart.