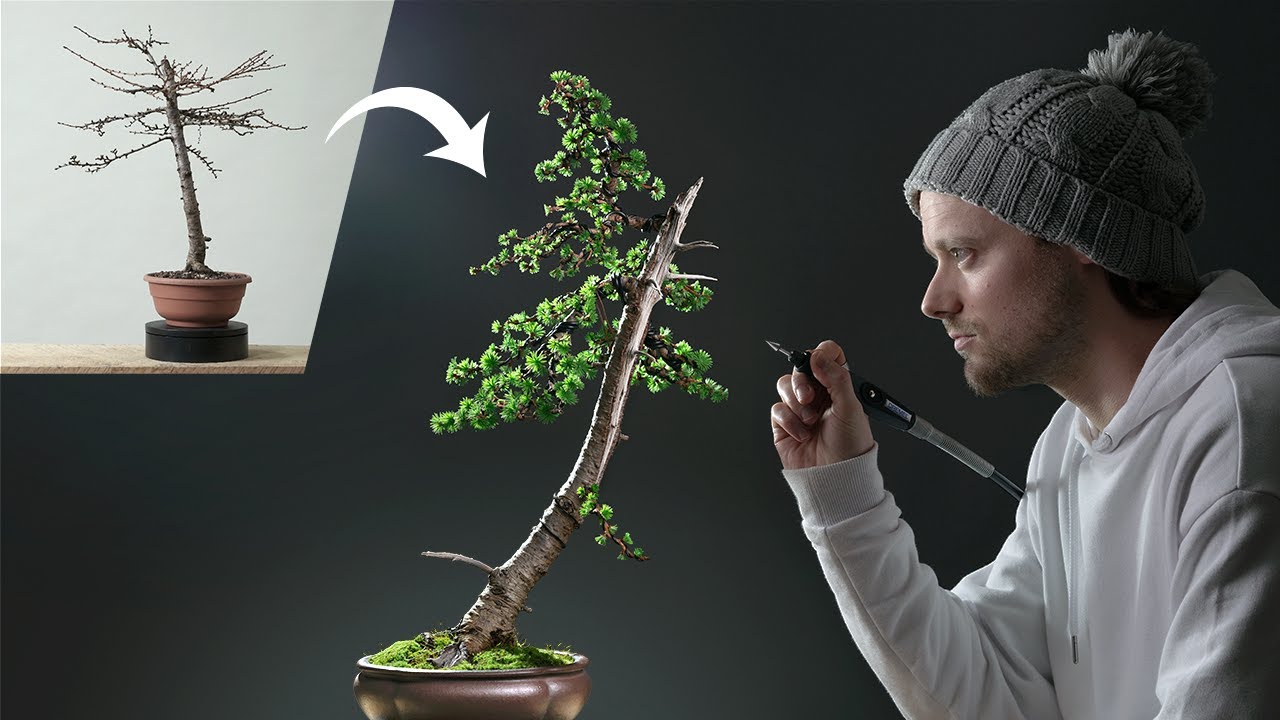 The art of creating a bonsai: a year condensed into 22 fascinating minutes
To be a good writer, you have to be a good reader. This is made true by the need to absorb and evaluate the work of other writers, but even more by the need to evaluate one's own. Writing is rewriting, to coin a sentence, and effective rewriting can only follow astute proofreading. This condition also applies to other crafts: take bonsai, the observation of which constitutes a skill in itself. To make an aesthetically pleasing miniature tree, one must first be able to see an aesthetically pleasing miniature tree – or perhaps smell one. "Bonsai trees (and inspirational art in general) give me a 'feeling' that's hard to describe," as practitioner Bucky Barnes says in the video above. "I'm not getting it from this tree yet, so I know I have to keep tweaking."
This tree is a Japanese larch bonsai, the year of Barnes' work on which the video compresses to just 22 minutes. The job is more than just water and sunlight: Aspects that need to be considered and changed aggressively include the viewing and potting angle of the plant, the number and direction of its branches, and even the root structure spreading into the ground below.
Barnes offers a range of clippers, cutters, pastes, brushes and wires – part of a suite of tools that, at least for masters in Japan, the homeland of bonsai, can get expensive. To us laymen, the tree that resulted from this year's work looks quite respectable, but by bonsai standards, its existence has only just begun. In the decades to come, even centuries to come, it could take on other qualities. When properly cared for, bonsai only improve with age.
As the video above shows, however, not all bonsai receive such maintenance. A product of the same Youtube channel, Bonsai Releaf, "Restoring a Neglected Chinese Juniper Bonsai" begins with a tree that, for many of its nearly four million viewers so far, probably doesn't look too wrong. Barnes sees things differently: starting with sketching the tree, apparently a standard step in his professional bonsai viewing process, he sets out to correct a host of deficiencies such as "lower branches competing for light", a excessive up or down growth (as well as something called "low crotch growth"), and dead tissue not demarcated from living tissue. This laborious operation requires an even wider set of tools, encompassing Dremels and even flames. But by the end of the video, everyone can see the difference in the tree itself and, more importantly, feel it.
Related Content:
The art and philosophy of bonsai
This 392-year-old bonsai survived the Hiroshima atomic explosion and is still thriving today: the power of resilience
Digital animation compares tree sizes: from 3-inch bonsai to 300-foot redwood
What makes the art of bonsai so expensive? : $1 million for a bonsai tree and $32,000 for bonsai scissors
Daisugi, the 600-year-old Japanese technique of growing trees from other trees, creating perfectly straight wood
Based in Seoul, Colin Marshall writes and broadcasts about cities, language and culture. His projects include the Substack newsletter city ​​books, the book The Stateless City: A Walk Through 21st Century Los Angeles and the video series The city in cinema. Follow him on Twitter at @colinmarshall or on Facebook.