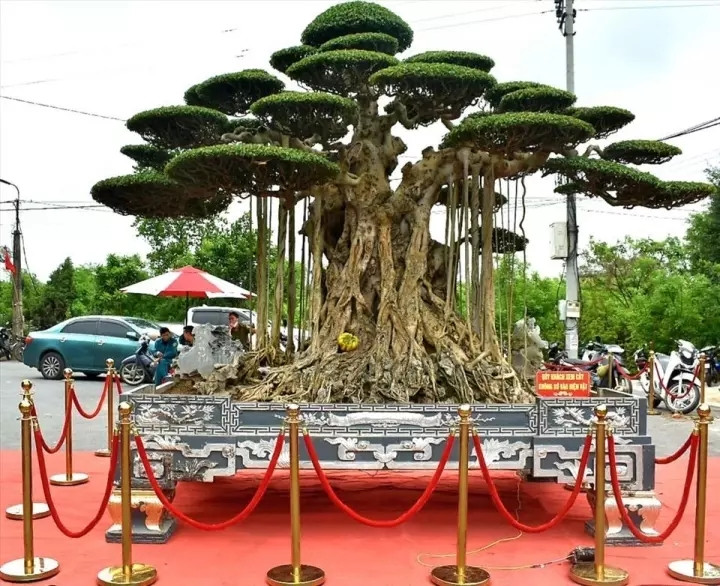 The bonsai style sanh tree grows in a gold plated pot
An ornamental creature exhibition was held in Vu Thu district, Thai Binh province, from April 29 to May 3, attracting many ornamental plant collectors.
Particular attention was given to a sanh tree named "Dai le van tung", which is believed to be native to Vietnam.
The owner of the sanh tree is Phan Van Thai from Nam Dinh. He said that "Dai le van tung" is 75 years old and he bought the tree from a gardener in Thai Binh three years ago. The tree is 3.6 meters high and 2.9 meters wide.
Asked about the name, the Thai replied that "Dai the" means a large ornamental tree. Meanwhile, awnings are compared to clouds on the sky, meaning "van". And the standing posture of the tree is like that of a pine tree, so he gave the word 'tung' (pine tree) to the name.
The tree is also called 'cay be dat vang' (gold-plated pot tree) because it is grown in a pot plated with 5 taels of 9999 gold worth VND 185 million as defined ago. a few years. The owner said the tree is valued at 20 billion VND.
Valuable fish valued at VND 300,000 per kilogram
Many people may not be familiar with the ca mat (Onychostoma gerlachi), as it is a clean species of fish that can only live in areas with clean water or waterfalls.
The Ca mat in Tam Hop (Nghe An) has a size of 2-3 fingers. The largest fish weighs between 500 and 800 grams.
In the western part of Nghe An and Tam Hop commune, ca mat is fished from the streams of upstream waters, so it has a special taste. The fish is used to prepare specialty dishes.
In the past, only the poor ate the fish because it was cheap, but now it is preferred by wealthy people. Ca mat is sold in online markets at 290,000 VND per kilogram.
Famous fish head noodle shop in Hanoi
The special shop on Hong Phuc Street in Hanoi is a favorite destination for foodies. Twenty-two years ago, when the shop opened, its owner Luong Thi Luyen was selling bun ca (grilled fish vermicelli). However, unlike other stores, Luyen used ca tram (Ctenopharyngodon idella) for the dish instead of ca ro phi (Oreochromis).
However, at that time, the shop was poorly attended and the fish heads were thrown away, which was a big mess. Luyen decided to transform the fish heads into original dishes.
The fish head is cut in half vertically, and after cleaning it is fried over low heat to create a special dish, which is loved by many people, especially drinkers. Customers can order whatever they want. Each serving is priced from 40,000 to 150,000 VND. Luyen consumed 1,200 kilograms of fish per day.
A woman grows an unusual variety of rice
Fleeing the big city for the countryside, Nguyen Thi Thanh Nga, born in 1986, has transformed a wasteland into a farm where she is developing clean agriculture and green tourism.
Nga, who was an office worker with a good salary, left town for his hometown to cultivate rice and buy an old brick oven. A lot of people thought she was stupid.
Nga decided to grow purple rice on the 2 hectare field because she thought the soil was suitable for this variety of rice.
Purple rice is considered the "king" of rice varieties with a high nutritional level and detoxifying substances. However, the cost of production is high and few localities can grow purple rice. The cultivation method of purple rice is almost the same as that of other rice varieties. However, Nga does not use chemicals during cultivation.
Biggest honeycomb, hot pot with fish sauce in Ca Mau
On April 29, the Center for Culture, Media and Sports of U Minh District (Ca Mau) released Vietnam's largest beehive.
The hive weighs 43 kilograms, is 2.2 meters long and 1 meter wide. It is planned to give 15 liters of honey. It belongs to the Muoi Ngot ecotourism site.
Another Vietnamese record was also recognized for the largest pot of fish sauce. The pot, 125 centimeters in diameter, 40 cm high, capable of holding 45 liters of water, was large enough to serve 300 guests.
Bao Anh