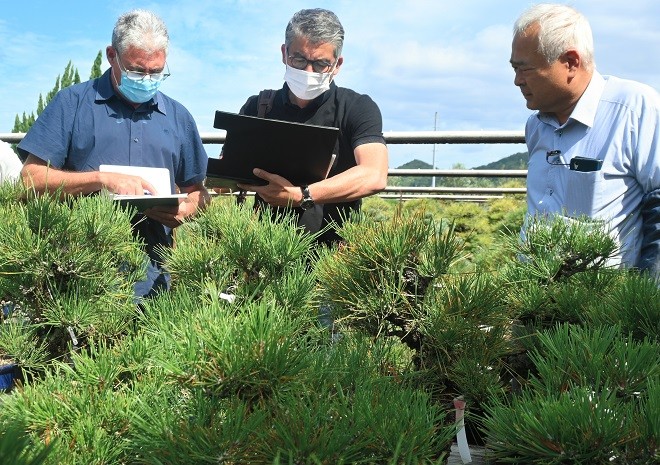 The city famous for its pine bonsai trees aims abroad for its customers
TAKAMATSU–Kagawa Prefecture officials are taking advantage of a long-sought opportunity to expand their sales network in Europe for black pine bonsai trees grown in the prefecture.
In Takamatsu, Kinashicho District is lined with pine bonsai farms, as the prefectural capital is famous for being Japan's largest pine bonsai production area.
The president and head of distribution for specialist bonsai importers in the Netherlands and Spain visited the Kandakashojuen farm in the district on September 21.
They carefully examined the many miniature potted plants before stating that the bonsai pieces "seem to have grown well despite the scorching summer heat".
The president and the official were on a business tour organized by the prefectural government, and they made a succession of purchases from 10 producers in Takamatsu over two days.
A total of 500 bonsai works, including those ordered in advance last year, will be shipped to Europe.
Takamatsu is now attracting a lot of attention from buyers, as black pine bonsai exports to Europe are expected to pick up pace next year.
Although potted pines could previously not be sold in Europe due to quarantine reasons, the restriction was lifted in October 2020 through the efforts of the prefecture and other parties.
Bonsai pieces can now be exported as long as they are checked and kept for two years without any problems being detected when they are registered in a plant quarantine center.
Attending the latest trade session, the chairman of Lodder Bonsai BV, which sells bonsai to more than 20 countries from the Netherlands, said he had high hopes.
"In Europe, although there are more men, there are also women who are very interested in bonsai. It's very mixed, people who generally love nature, who love plants. A lot of people see bonsai as a hobby and they want to be active," he said. "We'I am very happy that the black pine is finally available. Many Europeans have seen black pine in magazines, but have never been able to buy it. There is great potential to make people more enthusiastic about black pine.
Cultivation of pine bonsai in Takamatsu began about 200 years ago by transferring a wild tree to a pot. The bonsai here are said to have been sold to hordes of visitors to the famous Kotohiragu Shrine in present-day Kagawa Prefecture in times gone by.
The hot, dry climate was conducive to growing bonsai, and art plants grown in the region account for 80 percent of the national shipment, according to an estimate from Kagawa Prefecture.
The number of bonsai farmers in the prefecture, however, is declining. Data from the prefectural government shows that 196 farmers handled bonsai in 2021, while 300 or more engaged in the practice in 2000 and earlier.
Farmers are struggling to find their successors amid a prolonged decline in domestic demand.
"Many people owned bonsai trees in Japan because it was considered representative of high social status, but that demand has dropped," said Satoru Oro, president of the Takamatsu Bonsai Export Promotion Association. "We will take advantage of this coveted opportunity to export bonsai trees to Europe to preserve bonsai cultivation in Takamatsu."
Oro said a series of European agents, apart from the two people from the last tour, appeared to view the bonsai.
Kagawa Prefecture is also stepping up its promotion campaign.
Bonsai trees from the prefecture were exhibited for the first time at the Floriade 2022 Gardening Expo in June this year in the Netherlands.
Around 2,000 visitors visited the Japan stand daily, and a horticulturist's pruning demonstration drew crowds of onlookers.
"The word 'bonsai' seemed to be well known to locals, like sushi, and we feel there is potential demand," said a representative from the prefecture's local specialties promotion division.