This bonsai enthusiast has quintupled his agricultural investments
They say being a farmer is hard work.
It's not a career that allows you to retire early and comfortably, especially in today's u.a predictable economy where lower-class workers are always the first to be affected when "change" occurs.
It is generally difficult for people in agricultural jobs to climb out of poverty and hardship – but this the guy is an exception.
Edwin Dela Cruz was content with his casual work as a farmer, harvesting and selling his crops at a local market in his province, Nueva Ecijia.
Then, in early 2011, his longtime friend contacted him and asked to join a Facebook group called "South Nueva Ecija Bonsai Lovers". As the name suggests, the group is made up of people who all have the same interest in making bonsai.
He was initially skeptical about it as a hobby, but after seeing people buy and sell their homemade bonsai and make huge profits from it, he decided to give it a try.
Since he had already gHaving a strong knowledge of growing organic plants and crops, he decided to turn it into a business venture which turned out to be very profitable. In fact, he multiplied his profits by five times his business capital!
Small trees make a lot of money
Before starting his own business in the bonsai community, he only wanted to have one in his house.
He searched the markets for the most affordable bonsai trees only to find that each one came at an incredibly high price.
This prompted him to make his own bonsai. And thanks to the Facebook group his friend introduced him to, he learned the basics of creating a bonsai tree.
Dela Cruz said that in the group, other bonsai enthusiasts organize occasional trips to local rainforests to conserve and collect runoff trunks such as bantige, carmona, banyan tree and much more. These plants were then used as materials to create their pro-environment bonsai projects.
"We would go to places like Aurora or General Tinio and find these materials by the rivers," he said.
However, some bonsai enthusiasts do not have the luxury of searching the wilderness for solitary trunks.
But Dela Cruz says that's never been a problem because some vendors in the group offer them runoff trunks they picked up on their patrol. In addition to this, they also engage in the exchange of essential materials for making a beautiful bonsai.
Some of these materials even come from distant provinces like Koronadal or Ilocos.
According to him, some materials like Bluebell only come from Mindanao. Meanwhile, the dwarf lemon, bantigeand Pine Tree materials usually come from Ilocos.
"Some of the materials are for sale at PHP700 to PHP900. Once you finish making the tree, you can sell it for as little as Php2,000 after three months of cultivation," Dela Cruz said.
"Rare trees like a four-month-old child bantige can go up to 7,000 PHP.
He added that for a meager capital of PHP 700-2,000, the return on investment (ROI) was still a bargain. As for growing and caring for a one-year-old bonsai, it can already be sold after three to five months.
"Sometimes for just Php500 capital for materials, you can sell your bonsai for Php5,000," he said.
Dela Cruz revealed that one of the best sales he had in the business was Php25,000 for a pot of bantige which has been aged for two years and more.
He also said that most of his buyers prefer buying bulk orders.
During busier days, his sales rounded to nearly 18 to 36 pieces per month; but in slower months he has the chance to sell more than 6 pieces.
Encourage the Bonsai community
Since 2011, it has manufactured and housed over 700 different types of bonsai.
Of these, he sold 200 to other enthusiasts. He takes care of the others and adds them to his growing collection.
Dela Cruz added that it's important to have a support group for your hobby, and added that criticism and advice are essential in creating a bonsai in order to avoid fatal mistakes (literally). and kill the tree.
"I upload photos of my bonsai to the group. I make sure to include shots from all angles, from the base, to the trunk, to the top. I always ask them for their opinion on how I can improve it and the members always give me their honest feedback," he said.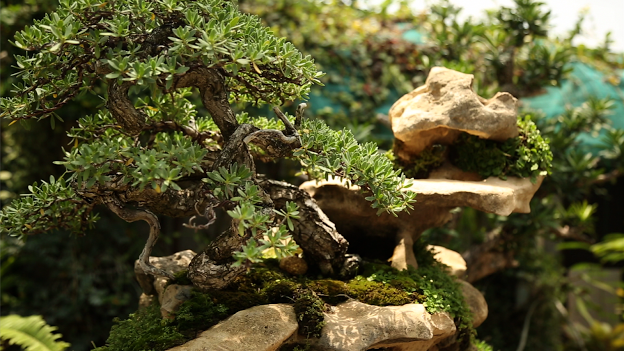 But apart from giving advice and opinions, these Facebook groups also organize seminars and conferences from experts who have traveled to several countries like Taiwan, Japan and other Asian countries for the development of bonsai.
"A good bonsai maker should always strive to improve. That's why I read and try to learn new techniques. I read books, watch these lectures, and consult with other bonsai makers," said he declared.
He has also participated in and won many bonsai making competitions in the country, including the 7th Bonsai Competition in Nueva Ecija, where he was named champion.
"If you get exposure and win contests, you can raise the price of your designs," he added.
People and bonsai enthusiasts flock to Dela Cruz for his creations, but he manages the traffic by posting his prices online for his low-to-mid-range creations.
When it comes to pricing his premium bonsai trees, he prefers to send personal messages to potential buyers for the price list.
Passion is the key
Although he earns a nice figure in his company, he does not consider what he does as "work". For him, caring for and creating bonsai from scratch is a hobby worth all his time.
"I really enjoy doing that. Seeing them and taking care of them is very relaxing for me. It's like therapy," he said.
He even makes the effort to get up early at 5 a.m. to water his creations, go to the market, and then leave to take care of his plants to make sure everything is in perfect condition.
"The first quality you must possess to succeed in this profession is patience. It takes a lot of effort and days, but it's worth it in the end.
Featured Image Credit: entrepreneur.ph