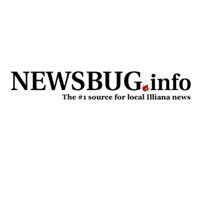 Vermilion County Gardens Walk Tickets Available | New
VERMILION COUNTY, IL – Every small town has beautiful gardens tucked away on quiet streets.
We walk past, unaware that someone has created something very special out of sight.
That's what makes participating in the Vermilion County Garden Walk so great, seeing these hidden gems and finding inspiration for your own garden.
If you get a new idea from every garden, you have seven ways to make your own landscape more special.
Join the Master Gardeners for this event on Saturday, July 9 from 10 a.m. to 3 p.m. CST.
There will be seven private homes featured this year in southern Vermilion County.
Don't miss the chance to see gardens open to the public for just five hours.
Garden Walk tickets are $10.00 and can be purchased on this website by credit card or cash or check at the locations listed below:
Vermilion County Extension Office in Danville 3164 North Vermilion 217-442-8615 MF 8 a.m.-4:30 p.m. Closed 12-1 p.m. for lunch.
If you purchase tickets by credit card through this website, your card tickets will be available for pick-up on July 9 at Flowers on Main 804 Main St Georgetown.
Please show your confirmation email to pick up your ticket on Saturday July 9 from 9:30 a.m. to 2:30 p.m. Flowers on Main 804 Main St Georgetown
The garden walk is rain or shine. Unfortunately, we are unable to offer refunds or tickets by post.
Here are some details about the gardens you will visit – each one is unique and has something special to offer:
The first stop is the Wilkus house. This couple started their garden by removing overgrown shrubs and trees to create a blank slate. Over the past ten years they have shaped a landscape that includes a small pond, a shed, Japanese maples, an amazing variety of perennials, a vegetable patch including berry plants, and garden art at every turn. Many annual and perennial plants are grown from seed in the greenhouse.
Vermilion County master gardener Mark Learnard has been showcasing flowers at local fairs for years. This year it offers visitors fourteen varieties of zinnias, amaranth, asters, snapdragons, daisies and more, some of which will be on display at the local fair. Mark Learnard starts most of his award-winning flowers from seed in his greenhouse. It is a large property with an orchard and plants that have been in the family for over 100 years. Lori and her daughter Mindy have planted themed beds reflecting different seasons. The family worked on the landscape together and will be offering golf cart tours for attendees.
Krabel's garden began in 2010, when Nick and Laura purchased their home and the Flowers on Main business. In addition to their business, the couple enjoy collecting antiques and have repurposed items as garden art and planters, creating a vintage look in the landscape. There are treasures around every corner, like the tiered fountain, filled with succulents, a tropical bonsai tree and an antique wash basin to give attendees ideas for their own garden. There are also huge planters filled with petunias and other flowers out of sight.
The Taylor-Thomen Garden has evolved over 40 years. Husband and wife worked together, one building the hardscape and the other adding plants. Judy is a real gardener in the sense that she loves all plants. She basically created garden rooms filled with pergolas, stepping stones, annuals, perennials, a vegetable patch and benches throughout the garden to sit and enjoy. The garden has a peaceful atmosphere.
A Vermilion County master gardener, Lee Smitley's interest in pollinators influenced his plant choices. Visitors will find sunflowers and other plants that attract bees and butterflies. Favorite plants include a large cherry tree in front of the house, a hardy hibiscus, and a large rose bush that produces flowers of three different colors.
Jean Hayward started a garden for her mother when she came to live in her house. The first tree she planted was a white dogwood. Each year brought progress and from a small beginning was born an English-style garden with large paths, perennials, shrubs and trees. As a watercolourist, Jean's garden provided her with an endless supply of peace and beauty to capture.
Vermilion County Master Gardener Walter Deck loves the creative process in his garden. Visitors to Waltsacres enjoy the vegetable garden with flowers planted to attract pollinators. Walter has a small orchard pollinated by his bees, as well as raised beds filled with strawberries and raspberries. Walter's motto is: "You don't know it until you grow it up!" »
The Garden Walk is a great way to spend a summer day and find inspiration for your own landscape. It's at your own pace and rain or shine. Tickets are $10.00 and can be purchased by cash or check at the Vermilion County Extension Office in Danville 3164 North Vermilion, 217-442-8615, Berry's Garden Center, Lima Bean Glassworks, Flowers on Main 804 Main St, Georgetown or Waltsacres at Ridge Farm.
Proceeds fund the participation of master gardeners and educational programs in community gardens, including projects with children and veterans. Vermilion County Master Gardeners volunteered more than 7,000 hours in 2021. They grew and donated more than 3,000 pounds of fresh produce to seniors, homeless shelters and the local food pantry the last summer.