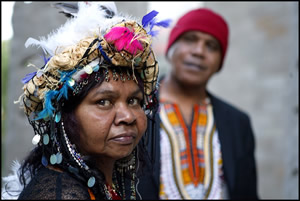 Wash my soul in the flow of the river
Reviewed by Rama Gaind.
Director: Philippa Bateman, Bonsai Films.
This cinematic reinvention of a legendary concert premiered in 2004 is an intensely moving story of loss, love and what it really means to come 'home'. Wash my soul in the flow of the river is also a story about the healing power of music; a song about a woman, a man and a river.
Here is a photo that celebrates the life, affection and creative collaboration between First Nations singer-songwriters Archie Roach and Ruby Hunter, Australian pianist, composer, arranger and bandleader Paul Grabowsky and the Australian Art Orchestra of 22 musicians. The gig was Kura Tungar – River Songs.
Roach and Hunter are shining icons in our nation's culture. Award-winning, revered and widely admired artists, they hold a unique place in Australian music and society. They have played internationally with some of the greatest in the world, but their journey to self-expression and success has not been easy.
Their music "connects" you in this beautiful film. It is a cinematic musical journey into the landscape of the soul. The film uses footage shot in 2004 from interviews, rehearsals and opening night and creates a beautiful portrait of performers at the peak of their abilities..
It generates a wonderful vibe using never-before-seen material from conversations with Archie and Ruby, essays, an opening night, and jaw-dropping footage from Hunter's Ngarrindjeri country in South Australia.
Hunter and Roach's deeply moving experiences – about being robbed as children, finding each other and returning home – come to the big screen in a cinematic celebration of adoration, survival and, above all, happiness. triumph.
About a film which is her first film, Philippa Bateman says: Wash my soul in the flow of the river has been 17 years in the making. "I saw the potential of this film through the truth, humor, generosity and talent of Archie and Ruby, to open people's hearts and minds to the power of listening."
Wash my soul in the flow of the river will be released in national theaters on March 10.